Yassin Aref is a Kurd from Iraq. He was a resident of Albany, New York. He was unfairly accused of supporting terrorists and sent to a special prison in Terre Haute, Indiana. The purpose of this site is to tell you who Yassin Aref really is and his interesting story; his struggle as a Kurd in Iraq, how he survived the Anfal genocide, his struggle for freedom, his journey to America with his family; and above all, how he ended up in prison. To learn of his story and about the Kurdish struggle for rights and liberty, Yassin wrote for you his life's story, Son of Mountains.
Click on this link to add this site to your RSS Feed.
---
---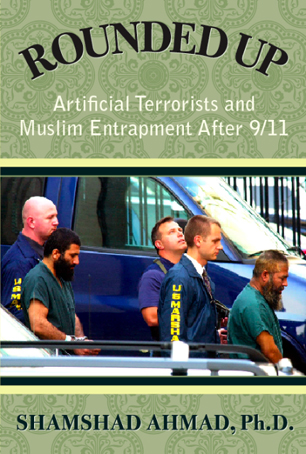 A new book about the Aref-Hossain "sting" case in Albany, New York has just been published.
Rounded Up: Artificial Terrorists and Muslim Entrapment After 9/11, by Dr. Shamshad Ahmad, president of the Masjid As-Salam mosque in Albany and the 2007 recipient of the Jim Perry Progressive Leadership Award from Citizen Action of the Capital District, is now available nationwide. Rounded Up is the only comprehensive account of the Albany case available, and there is only one other book on the market about a domestic terrorism case itself. Rounded Up is an important contribution to the new body of literature about the government's preemptive prosecution of Muslims in America. To order and to read more about the book, click here.
---
---
---
---
---
---
---
---
---
---
---
---
---
---
---
---
---
---
---
---
---
Welcome Democracy Now! Listeners
Read about Dr. Rafil Dhafir, the Muslim Solidarity
Committee and more information about the CMU-
"Little Guantanamo" on the Links page here
Read more about the CMU Prisons
"Little Guantanamo"–Secretive 'CMU' Prisons Designed to Restrict Communication of
Jailed Muslims and Activists With Outside World
Broadcast on Democracy Now! April 17, 2009
---
Photos sent by Arif Gull, a friend of Yassin's of
Hashazini and Kurdistan.
---
Me
by Yassin Aref

This is me
Wherever I am
I carry a pen in my pocket
and book in my hand
Tons of new ideas are in my mind
My heart full of love and caring
Looking forward hopefully
For justice, peace and a better life
For us all and the coming generation.
Searching for an answer to the question
"What exactly does it mean
that we are human beings?"
---
Quote from Pastor Martin Niemöller

In Germany they first came for the Communists, but I didn't speak up because I wasn't a Communist. Then the came for the Jews, and I didn't speak up because I wasn't a Jew. Then they came for the trade unionists, and I didn't speak up because I wasn't a trade unionist. Then they came for the Catholics, and I didn't speak up because I was a Protestant. Then they came for me, and by that time no one was left to speak up.

from Bartlett's Familiar Quotations